Red Power Hydraulic Pumps
Hydraulic doors offer many advantages over the more traditional styles of doors that are on the market today. Hydraulic doors are a simple and efficient design. Every hydraulic door is built using the highest quality components available to ensure your door works properly every time.
Hydraulic doors from Schweiss come with a high quality electric power unit and pump. Every pump comes pre-wired and ready to operate from the factory. All Schweiss hydraulic doors feature an electrical disconnect and a "dead man" control station to ensure the safe operation of our doors. The electrical system is built to easily allow many upgrades to your hydraulic door such as remote controls or a safety edge.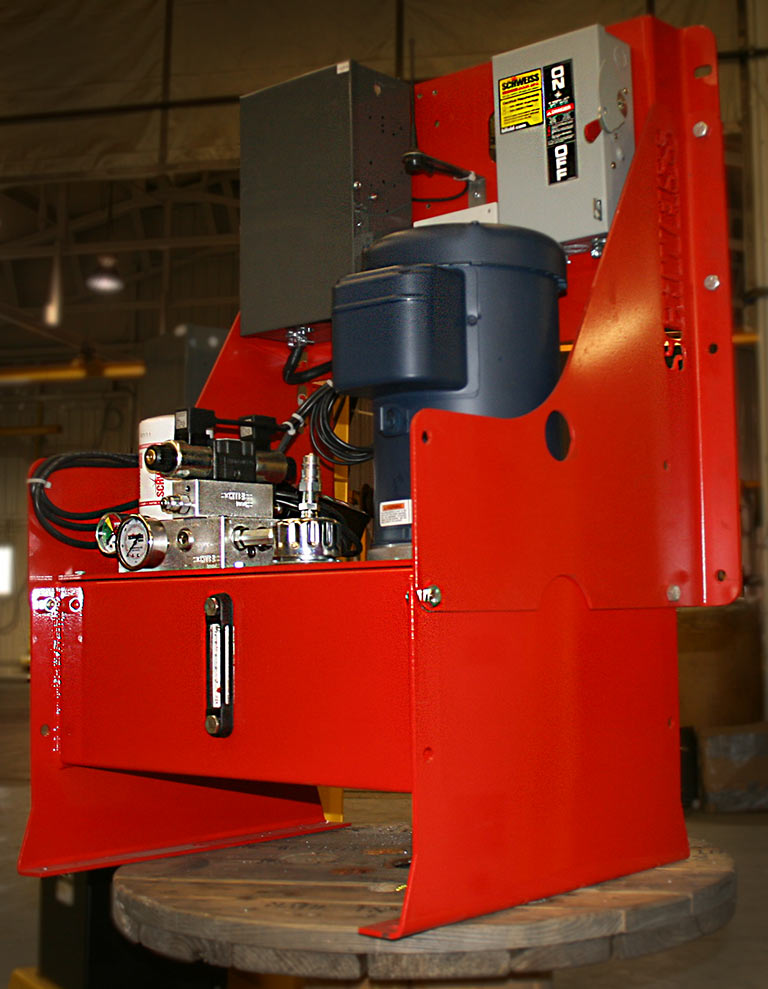 Motors
Schweiss Hydraulic Doors uses top-quality brand name motors. These motors are heavy duty, totally enclosed / fan cooled(TEFC ), with a common 56C face mount and standard shaft size. These continious duty motors are safety-backed with fuse and overload protection.
Pumps . . . 95% effecient
Single Gear Pumps are pressure loaded and 95% effecient that operates at 1800 RPM for quiet operation! Pressure loaded gear pumps that operate at 1800 RPM are so quiet, you hardly hear it running, It's that QUIET OPERATING!
Electrical
The pump/motor system from Schweiss Doors offers superior electrical components. The unique design of Schweiss Doors powerful system is designed with safe UL listed components. Plus, it's composed of only common components, standard in the electrical industry throughout the world. These electrical control boxes are also designed with ample space to safely house all required electrical components, such as contactors, transformers, relays, motor timers, rectifiers, and control fuses.
Pump Location
Some customers want a floor mount, others want a wall mount it's all possible with each Hydraulic Pump Unit. Schweiss' flexible electrical system allows you to position the pump in a back room, side room, or anywhere else in your building! Get this: No matter where the electrical system resides, your control station can and will always be near your door, for the ultimate in safe operation. Mounting Styles: Wall Mount / Floor Mount / Under the Bench / Back Room
Hydraulics Designed for Large Moving Hydraulic Doors
The Schweiss manifold has a clean, crisp design, featuring a polished finish, no exposed plumbing lines, and a filter drain port that allows oil to drip back into the tank, preventing the chance of unwanted and messy oil puddles in your building. Includes a filter clogging indicator telling you when to change your filter element and a filter drain port that allows oil to drain back into the tank, before removing and changing the filter element, reducing any chance of an oil mess. 3000 PSI pressure gauge is standard, gives you the reading of the pump pressure used to open the door. Auxiuarry Oil Filter - Easy Screw on Oil Filter that is easy to change. Clean Look..Best Quality Filter that protects the hydraulic pump from impurities. Oil Filler / Breather Cap / Filler Port. Rich looking polished finish easy screw on cap with a built in screen to help keep debris out, important when adding oil. Sight Glass displays the oil level and temperature in the oil reservoir tank all in one. Red Power Hydraulic oil reservoir heavy duty long lasting powdered coated reservoir tank with a drain plug
Each hydraulic pump comes
standard with an oil filter to clean your hydraulic fluid and extend the life of your pump. With our universal bracket, your hydraulic pump can be mounted anywhere in your building, giving you a nice, clean look. Every hydraulic pump also comes with a seven year warranty.
A Well-Thought-Out Design. . .
"One of Kind"
| | |
| --- | --- |
| They're Powerful... | We're talking THE most Efficient Pumps, with Standard Motors designed ready to lift any size door, at any time, all the time! |
| They're Reliable... | Schweiss Doors cares about quality. We only offer Safe, Carefully-Designed Hydraulic Pumps that operate at 95% efficiency. Don't settle for less! |
| They're Quiet... | This amazingly smooth, quietly operating pump system didn't just happen on its own! Schweiss Doors knows what you need, so we provide it - every time! |
Featuring THREE BackUp Systems - All On One Unit
# 1 DC Battery-Motorized BackUp
Simple, clean, reliable design - you control your door through a battery backup control station. Easy and effective!
# 2 Drill Driven Backup
Our unit is also designed with a Drill Driven BackUp: using a 7/16" hex head, just attach a socket to raise and lower your door at any time or from any position. Easy and reliable backup!
# 3 Tractor Fittings
Tractor Fittings come standard on each Unit. Using the Tractor Hydraulics, you can raise and lower your hydraulic door if all else fails.